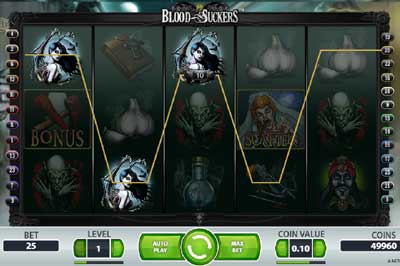 As discussed in our previous blog post, there are many different styles of slots available that offer their own advantages. Slots are identified in one of three categories, low variance, mid variance or high variance. If you are a regular slot player, you already know the basics in helping you identify the style of slot you are playing, but for many, this is sometimes difficult to determine and can often lead them to develop negative feelings towards a particular slot.
Slots are designed differently for good reason. Some players might desire a game that offers a higher level of excitement through the activation of regular bonuses and frequent wins, while others prefer a slot that offers fewer wins and bonuses, but when they do, tend to award larger wins. Understanding the variance in video slots and how to recognize each will make a difference to your gaming experience and allow you to identify these games after just a few spins.
In the article below, we look at low variance video slots, what they offer and how to identify them. Those wishing to gain further knowledge on mid variance and high variance slots should read our blog articles on those style of slots to completely understand the differences.
What is a Low Variance Slot?
Low variance slots award regular payouts, bonus features, and frequent win combinations. However, you'll find that the amounts you win are not large, and for the most part will only maintain your bankroll – or even see it slowly depleted. Common wins from these games are often 5x to 10x the bet value.
This style of slot will furthermore allow you the option to play fewer paylines, which is never ideal, but those attracted to lower variance slots generally have reduced bankrolls and find this option appealing. Regarding bonus features, low variance slots usually provide multiple bonus features such as free spins, wild symbols, scatters and bonus games. These are regularly activated and make for exciting play, but again, the amounts that can be expected to materialize tend to be less.
How to Identify Low Variance Slots
The best way to identify a low variance slot is to preview the paytable and look at the amounts that are offered for combinations involving three, four and five symbols. As all slots will offer multiple symbols, it is recommended to focus on the higher valued symbols. This will save you time in the process of identifying a given slot's variance. Most low variance slots will not increase payouts by large amounts when four and five symbol combinations appear; this is one indicator it is a low variance game.
Playing the slot for a trial period will also help in that determination. If after a short period you experience a larger volume of wins, all being small, and the paytable supports what was mentioned above, you have your answer. The slot is a low variance, and there is nothing wrong with playing one if you enjoy this style of play.
Also, should you activate a bonus feature, and the winnings prove to be less than impressive, that will be another indicator. While medium and high variance slots can also produce poor results in bonus rounds, they tend to be far greater that their low variance counterparts.
Key Indicators of a Low Variance Slot
Small wins on high value symbols
Frequent, but small wins
Small wins on bonus rounds
Should I Play Low Variance Slots?
For those who enjoy bonus features and the entertaining features this style of slot offers, the answer is Yes. These games can be wonderfully rewarding due to the high degree of action on their reels; this is especially true with the activation of bonus games, free spins, and larger win combinations when they come.
Games such as Blood Suckers from NetEnt and Tomb Raider from Microgaming are perfect examples of low variance video slot and can be found at some great casinos including Dazzle Casino. This casino provides a full game selection  and includes many range low variance type.