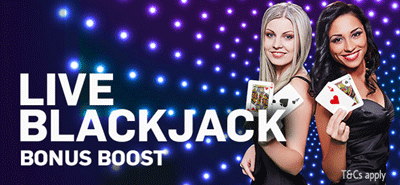 £15,000 Live Blackjack bonus!
betfair Live Casino are giving you the chance to get a share of a £15,000 prize pot, just by playing Live Blackjack!
All you need to do is play at one of their Live Blackjack tables and get two or three Blackjacks in a row – get 2 Blackjacks and get a £50 bonus; get 3 in a row and get £250!
Be quick, though, once the pot is gone, it's gone. The clock's started, so get playing now…!
Blackjack guide
Need a reminder of the rules? Check out our Blackjack player's guide.
Want a simple Blackjack strategy? Read our 3 stage Blackjack strategy.
And find out why most new players lose at Blackjack!
£200 sign-up bonus
Not a betfair customer? Sign up by clicking on the box below and get an extra £200 sign-up bonus!