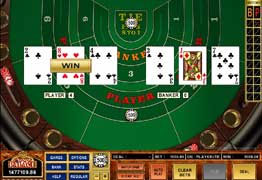 They're back!
Free play casino games have always been a cornerstone of this site. One of the guiding principles of Fortune Palace from the day I designed it was that players should be able to play casino games for free, to practice strategies and systems without risking any of their own money.
I've always described the Fortune Palace operating principles as:
Learn > Practice > Play
Learn how to play (the rules and basics)
Learn how to win (game-specific strategies and systems)
Practice for free (on our no download, free play games)
Play for real (once confident, choose a casino to play at)
For the first years of its existence, Fortune Palace was able to stick to these principles. But a few years ago the UK Gambling Commission ruled that free play games should only be accessible by age-verified players aged 18 plus.
Underage gambling prevention
I'm as keen as anyone to prevent underage and irresponsible gambling, but as an affiliate site, as opposed to a casino operator, this was very difficult as we don't request or store player data – you can visit the site and play the games completely incognito. Implementing age verification was also very costly, with some companies charging thousands of pounds a month to verify your site visitors. If you're an online whiskey store, where each visitor could potentially spend hundreds of pounds, this was a small price to pay. As a casino affiliate site, where visitors were quite literally looking to pay nothing (playing for FREE!) it was a non-starter.
Although this ruling only applied to UK residents, the effects were far-reaching as without any proper age verification procedures, all free games had to be removed. Apart from reducing traffic numbers to the site, it hurt me deeply that we could no longer operate in line with our principles. This was the 'state of play' for a number of years now.
1account age verification
But in 2021, it's going back to normal! I've been very fortunate to go into partnership with 1account, an independent company who perform age verification checks for various age restricted industries and products such as Vaping, Tobacco, Alcohol, Streaming Content and Social Media. Verification is quick and easy – just enter a valid UK mobile number, email address and residential address.
The first time you access one of our free play games, you'll be asked to enter your mobile number and email address. You'll then be sent to 1account for verification.
This is a one-time process, and once you have a 1account, you won't need to have your details & personal data checked every time you visit a site that requires age verification. Better still, 1account will never share any of your information without your consent – simply sign in using your 1account credentials on 3rd party sites, and they will confirm your age verified status with the site.
In other words, once you've verified to play games at Fortune Palace, you're verified at any age-restricted website!
Free play casino games
On the Practice for Free page within the main site, you can now access six fantastic, fully functional free play games:
We're hoping to add some great slots to this selection very soon but we wanted to get you back up and running asap so we're launching these six as soon as they're ready.
It's a great relief to be able to get back to the Learn, Practice, Play principles so we hope you enjoy having the facility back again!