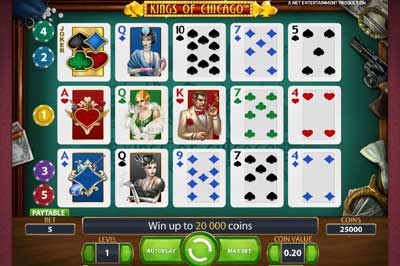 High variance slots are very popular among high roller players, and those who are more focused on big wins versus a large volume of small wins.
But playing high variance slots is not without risk – in fact, it increases the risk. This style of slot is known to offer larger winnings when symbols line up, however, due to wins being larger, they do not come as often, and for many, this can be a frustrating experience.
Playing high variance requires several things, one being patience and the other being the bankroll to afford to play this style of game. Many have managed to win big in these games, but there are many more who have failed to connect the dots, so to speak, and watched in dismay as their bankroll is rapidly depleted.
High Variance slots often will generate wins that exceed 1000x the amount staked. They come in multiple styles but commonly are 3-5 reels slots with an average of 5-20 paylines.
(If you're still unsure about slot variance, read our posts on variance, Low Variance and Medium Variance slots. Each provides a great amount of information about the difference styles and how those affect your play at a casino.)
What are High Variance Slots?
A perfect example of high variance slots is a classic slot that does not include any bonus feature. These are generally single payline slots, and as a result, they decrease your chances of winning often, but when they do, they tend to be sizeable wins well worth the wait. Many game designers have created slots of this nature in 5 reel designs as well, but in doing so, it is important to realize the cost per spin will increase and therefore the appropriate considerations need to apply bankroll wise.
Most high variance slots differ little when compared to other games of today. They include all the usual game features such as wild symbols, free spins, pick me bonuses, and free spins, However, as mentioned, these are also hard to activate, due to the larger amounts that can be won.
How to identify a High Variance Slot
For the most part, a casino will not identify if a slot is a high variance slot as it could see fewer players playing those games. But there are a few ways to find out what the slot variance is on any slot you are playing.
The best way to determine a slots variance is to review the paytable, as this will give you an indication of its variance. When reviewing the paytable you are able to look at the pay amounts for 3, 4 and 5 symbol combinations. If those amounts are rather small for the larger paying symbols, then this is not a high variance, but is in fact a low variance. However, if the amounts are much higher, the odds are good that this is a higher variance slot. Another identifiable factor is that the pay amount increases for 3, 4 and 5 symbol combinations – if those amounts are increased by a large degree, the odd improve on it being high variance.
Another method to help identify a slots variance is the software developer's game specifications. These are not always available but, if they are, may indicate the game's variance.
Lastly, playing the slot for a trial period will further help you to determine if a slot is low, mid or high variance. If wins are frequent but small, it is a safe bet you are not playing a high variance slot but are playing one that is low variance. If wins are reasonably frequent and decent in size, then the slot is a mid variance slot.
Key Indicators of a High Variance Slot
Large value wins on symbol combinations
Significantly increased wins on 3, 4 and 5 symbol combinations
Infrequent wins, but large payouts
Should I Play High Variance Slots?
Players who are interested in playing high variance slots will need a higher account balance, as triggering the larger wins takes time. If this is you, there are a number of well-known high variance slots, including Jackpot 6000,  Break Da Bank and the excellent slot-cum-poker-game Kings of Chicago.
These games are available at various online casinos, but one of the best is Glimmer Casino. Glimmer offer a nice variety of promotions and deposit bonuses to help build your bankroll – ideal for those wishing to pursue high variance slot play. They also offer 1000 free spins on a selection of slots games, which can only help you in determining a particular game's variance!