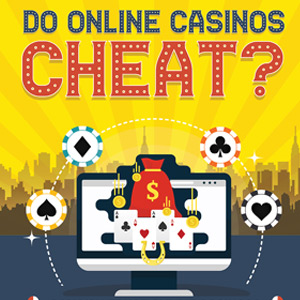 It's the question most asked by new online casino players, and it's asked in many ways, for example:
Are online casinos fair?
Are online casinos legit?
Which online casinos are honest?
Are online casinos safe to play at?
Can you win money at online casinos?
Which online casinos actually pay out?
Can you trust online casinos?
Are online casinos rigged?
These are all valid questions, and anyone involved in online gambling should be prepared to answer them as quickly and clearly as possible.
I've put together this infographic to help online casino players understand the reasons why players sometimes feel that something "just isn't right", especially if they're used to playing in a regular bricks and mortar land-based casino.
For a full walkthrough, read this page.
Share this Infographic On Your Site
We'd love you to display our infographic on your website but please link back to Fortune Palace by using the embed code provided below. Simply cut and paste it into your site or blog. Thanks!
<p><strong>This infographic was created by <a href="https://fortunepalace.co.uk" title="Casino Strategy Guide">Fortune Palace</a></strong><br><br><a href="https://fortunepalace.co.uk/do-online-casinos-cheat.html"><img src="https://fortunepalace.co.uk/assets/images/do-online-casinos-cheat-full-size.jpg' alt='Can you trust online casinos?'" alt="The true cost of an online casino bonus" width="900" border="0"></a></p>