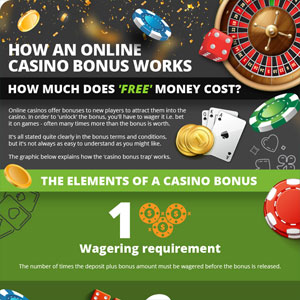 How much does 'free' money cost?
Online casinos have come up with many inventive ways of enticing new players to their sites. In a bid to stand out from the crowd, you can find various kinds of casino bonus offers – free slots, free play, 100% match, 200% match, crypto bonuses.
For new players, these can seem very inviting, but there's a bit of a trap waiting for unsuspecting gamblers!
I've put together this infographic to help online casino players understand the mechanics of an online casino bonus, so that you can make your choices informed ones!
For a full walkthrough, read this page.
If you're happy with the terms and conditions, then all of our recommended casinos will be happy to offer you a bonus that hopefully fits your needs. For a full list, sorted by maximum amount, wagering requirement, allowed games – and including all the small print! – check out the lists here: https://fortunepalace.co.uk/best-casino-bonuses.html
Share this Infographic On Your Site
We'd love you to display our infographic on your website but please link back to Fortune Palace by using the embed code provided below. Simply cut and paste it into your site or blog. Thanks!
<p><strong>This infographic was created by <a href="https://fortunepalace.co.uk" title="Casino Strategy Guide">Fortune Palace</a></strong><br><br><a href="https://fortunepalace.co.uk/the-true-cost-of-online-casino-bonuses.html"><img src="https://fortunepalace.co.uk/assets/images/casino-bonus-infographic-full-size.jpg" alt="The true cost of an online casino bonus" width="750" border="0"></a></p>