The best 3D slots
Microgaming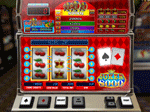 Joker 8000
Slot Variance: Medium/High
Joker 8000 is a pretty standard 3 reel, 5 paylines slot. Whilst again not a true 3D slot (are you detecting a trend here?!) the graphics are meant to give you a realistic impression of playing on an old-fashioned pub fruit machine. Joker 8000 does this well, with classic reel symbols like Joker, Crown, Bar, Melon, Lemon and Cherry. Despite this simplicity, Joker 8000 is a medium to high variance game, so bankroll management is key - you'll lose a decent number of spins before hitting a big win, so choose coin size wisely, rather than reduce the number of paylines.
---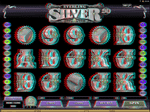 Sterling Silver
Slot Variance: High
Microgaming's Sterling Silver 3D was its first and only true 3D release. It was thought it would be a success but proved otherwise as it offered two modes, regular view, and 3D, and required players play the 3D mode with 3D glasses to get the full effects. While a fantastic game, with a fair number of features such as extra spins and wilds, it did not see additional slots join it and has more or less been forgotten.
---
Playtech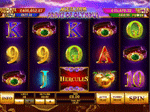 Age of the Gods - Prince of Olympus
Slot Variance: Medium
Age of the Gods - Prince of Olympus may not be a 3D slot in the truest form, but many slots fit into that category, and many are given this classification based on the level of animations that most of the newer slots like the Age of Gods series come with. Prince of Olympus displays this well with all of its symbols offering some form of 3D animation when joining a winning payline.