Betting on casino games using the betfair Exchange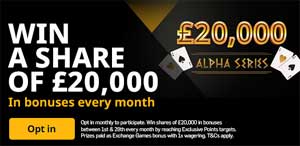 ---
What are betfair Exchange Games?
betfair Exchange games are another unique product from betfair, giving you the chance to bet on casino games using betfair's innovative betting exchange, so you're betting against other punters, rather than just the casino. Fast, exciting and completely unlike anything you'll find at other online casinos, betfair Exchange games are a great new way to gamble online.

betfair Exchange Games are computer generated games where you get to watch the action and back your judgement as events unfold. A variety of exciting, simple and addictive games are available (see below for the complete list of games).

As if that wasn't enough, turbo editions speed up the action even further, so you really have to have your wits about you as you revise your strategy and react to what is happening.

betfair Exchange Games are a genuinely exciting gambling experience, which betfair proudly claim is 'the future of casino'.
If you're not already a registered player at betfair, click the button below and get access to the most exciting, innovative online casino currently available!
Sign up at betfair


#ad 18+
---
betfair Exchange Games video introduction
---
betfair Exchange Games Strategy - overall
The key thing to bear in mind when playing betfair Exchange Games is that you're not trying to win a game of Poker or Blackjack or Baccarat, you're trying to beat other players by outhinking and outguessing their moves.
you're not trying to win a game, you're trying to beat other players by outhinking and outguessing them
On each of our betfair Exchange Games strategy pages, we detail the optimal strategy for that particular game, but the above still applies - you're trying to guess what the 'average' player would do in a certain situation and then bet either against or for that position using your own judgement.
To use Blackjack as an example, most new players would probably Hit a 13, thinking it gives them a better chance to win. As we explain in 'How to win at Blackjack - and why most players don't!' that's completely the wrong strategy. If you were playing Blackjack, you would use that knowledge to give you an edge. Playing (or, more accurately, watching) a game of betfair Exchange Games Blackjack, you would use that knowledge of Blackjack strategy to predict that the other players watching the game would bet incorrectly - giving you the edge in a completely different way i.e. you're betting against other players' mistakes!
This is the great attraction of betfair Exchange Games - it's taking the idea of player psychology to a whole new level. The old saying that 'Poker is not a card game with people, it is a people game with cards' is even more appropriate here - to win at betfair Exchange Games you have to understand both the game and the players!
---
betfair Exchange Games Loyalty Rewards
To encourage players to play the Exchange Games, betfair have incorporated an inventive Rewards scheme called Exclusive Points. There is no sign-up bonus available to Exchange Games players, other than the standard betfair offer, but this is not a problem. As we discuss in 'The Casino Bonus Trap', bonus promotions are a way to attract new players to the casino. They're mainly aimed at Slots players and not really designed for experienced gamblers. By definition, if you're playing betfair Exchange Games, you're not a newcomer to gambling!
Exclusive Points are betfair's way of rewarding loyalty for Exchange Games players. How it works is quite simple: as you play, you earn Exclusive Points. At the end of the month, you receive an Exchange Games bonus with x1 wagering requirement. The bonus you are awarded is determined by the amount of Exclusive Points you earn in the previous calendar month.
Earn a minimum of 100 Exclusive Points in one calendar month to receive a guaranteed bonus on the 1st day of the following month. The more points you earn, the higher the bonus! You'll earn Exclusive Points every time you win or lose £20 on a completed Exchange Games game. NB There's no need to opt-in to receive points.
The following table shows how you can earn a guaranteed bonus, just by playing!
| Minimum points threshold | Guaranteed Bonus |
| --- | --- |
| 100 | 10 |
| 250 | 50 |
| 500 | 100 |
| 2,000 | 250 |
| 5,000 | 500 |
NB You will need to be a registered player to be eligible for the Exclusive Points scheme. Although we state above that bonuses are not really aimed at serious players, if you're new to betfair, you might as well take advantage of their offers, if only to rip through the wagering by playing Slots!
Sign up at betfair


#ad 18+