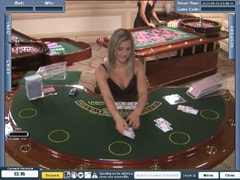 In the casino, Blackjack is one of the most social games, where player interaction is a big part of the experience - even if you're losing, you can see others winning! Playing online on a 'traditional' Random Number version of the game is essentially a one man pursuit, and a lot of the enjoyment is lost. With Live Dealer Blackjack, the interaction is back on centre stage - not only are you playing with other players, you can also chat with a real life human croupier.

The casinos below offer the best Live Blackjack experiences you can find online, with smooth, slick feeds, lots of tables and a wide choice of betting limits to suit all bankrolls.

Blackjack is the most popular of all casino games, with the downside that in the casino it can sometimes be difficult even getting a seat!

Two of our top three casinos use the excellent Evolution Gaming live feed, and offer over 10 tables each, with an upper limit of £5000.

If you need a reminder of the rules of Blackjack, or our simple 3-stage Blackjack strategy, have a quick read through our Blackjack guide before you play.