Oscar's Grind in Sic Bo and Roulette
The limited nature of Oscar's Grind makes it suitable for small consistent wins when betting on the close to Evens chance bets in Roulette (Red/Black, Odd/Even, 1-18/19-36) or Sic Bo (High / Low).
Please bear in mind that these bets are not true 50/50 bets - the Zero in Roulette and the Triple bet in Sic bo mean that the odds are not quite 50/50:
Sic Bo - 48.61%
European Roulette - 48.60%
American Roulette - 46.37%
Incidentally, the figures above show why we recommend playing European Roulette, rather than American!
---
Oscar's Grind in Blackjack
Oscar's Grind may seem like a good staking plan for Blackjack if you're a disciplined player who only bets the same amount on each hand. However, using this system really inhibits your play in an unnecessary way. For example, there will always be situations when playing Blackjack where the best bet would be to Double or even Split. This could result in wins of half units or plus or minus two units. As the goal of the Grind is to win exactly one unit, this puts you outside of the rules of the system. You're then faced with the choice of sticking to the Grind system and potentially no longer playing with an optimal Blackjack strategy, or playing perfect Blackjack and halting the Grind mid-stream. Clearly, we'd recommend neither!
---
Don't let losses mount
If the slow, steady nature of this gambling system appeals to you, our only warning is to bear in mind our overall gambling strategy and set a limit to your losses. Although these will never be huge, the Oscar's Grind system does not allow a quick method of winning them back.

It may appear a low-risk system, but our tests show that the Grind can get into a situation it would be difficult to get out of again. For that reason, we recommend it for medium-risk gamblers, those who can withstand small losses in pursuit of moderate gains.
---
A little too slow?
If you're looking for something safe and steady like the Grind, but a little faster-paced, a number of systems fit the bill.
In our gambling systems test, 3 systems returned an overall profit - the Paroli, the 1-3-2-6 and Fortune Palace's own 1-3-2-4. Before committing to the long-haul of the Grind, it might be worth checking out one of those first!
---
Where to use the Grind system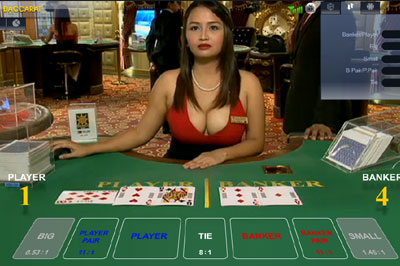 Once you've familiarised yourself with Oscar's Grind, why not try it out at one of our recommended casinos?
Or maybe you fancy playing Baccarat with real Live Dealers? Our detailed Live Casino section recommends the best casinos for playing Baccarat with a real dealer.

Live streaming cameras bring you the action straight from inside a genuine casino setting, where you can see the cards being dealt, and even chat with the dealer!
You can play to 60 games an hour in Roulette and an incredible 180 games an hour of Baccarat!

And the VIP rooms on offer allow you to bet up to an amazing £500,000, with exclusive dealers, dedicated to high stakes gamblers.
Play the Grind on Live Baccarat or Live Roulette now!