Online Blackjack guide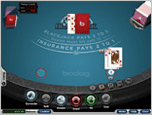 Blackjack is the most popular game in the casino, and for good reason - it's simple to learn, but offers experienced gamblers the opportunity to refine a strategy that could give them the edge over the casino.
In order to take you from beginner through to High Rolling Blackjack player, we've put together a comprehensive Blackjack guide, that tells you everything you need to know:
A simple guide to playing Blackjack. An explanation of the rules, counting system and betting options - Hit, Stand, Double, Split, Surrender, Insurance etc.

This Blackjack Basics guide is designed to get you up and playing in as short a time as possible.
---
Casinos offer a multitude of Blackjack variations, each with a subtle twist on the standard game. They have also introduced side bets, optional bets that can win even when the main hand loses!

We've detailed all the major variations and side bets in this separate guide. Once you're familiar with the basic game, you can choose a variation that gives you exactly what you want!
---
New Blackjack players often think that the object of the game is to get a points total as close to twenty one as possible. It isn't.

To win at Blackjack, you just have to beat the dealer - and you can do this with a points total of nineteen, fifteen or even twelve.
---
Practice your new-found Blackjack strategy skills on this free play game which you can play without downloading, on your mobile, tablet or desktop.

You'll get 2,000 play money credits and as long as you want to practice!