Online Blackjack guide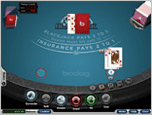 Blackjack is the most popular game in the casino, and for good reason - it's simple to learn, but offers experienced gamblers the opportunity to refine a strategy that could give them the edge over the casino.
In order to take you from beginner through to High Rolling Blackjack player, we've put together a comprehensive Blackjack guide, that tells you everything you need to know:
A simple guide to playing Blackjack. An explanation of the rules, counting system and betting options - Hit, Stand, Double, Split, Surrender, Insurance etc.

This Blackjack Basics guide is desgined to get you up and playing in as short a time as possible.
---
The 'perfect' Blackjack strategy has to cover every possible combination of cards. This quickly becomes hard to remember, especially under playing conditions.

We've developed a simplified, easy-to-learn method that allows you to start with a basic strategy, suitable for most hands you'll encounter, then takes you step by step to a more advanced level, until you're playing like a pro.
---
New Blackjack players often think that the object of the game is to get a points total as close to twenty one as possible. It isn't.

To win at Blackjack, you just have to beat the dealer - and you can do this with a points total of nineteen, fifteen or even twelve.