The game
The game consists of 4 players competing for the best 5 card hand in Poker, using 1 pack of 52 cards (all 4 suits of 13 cards). Each player receives 2 unique cards and then 5 community cards are dealt for all players to use.

The game is split into 5 rounds:
Round 1 - The Deal
Round 2 - Pre-flop
Round 3 - The Flop
Round 4 - The Turn
Round 5 - The River
---
1. The Deal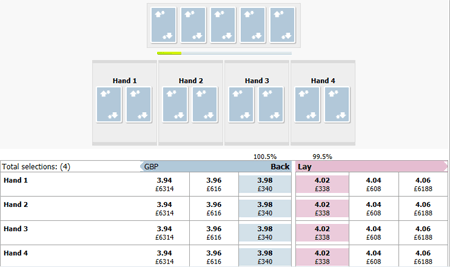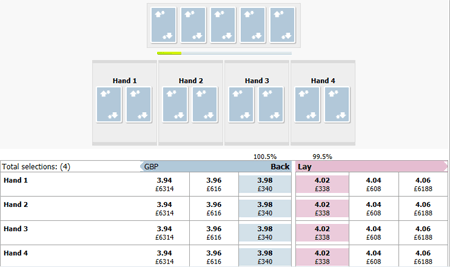 Before any cards are dealt, there is an opportunity to bet for (Back) or against (Lay) any of the hands.

There's no real strategy at this stage, it's more a matter of taking a punt and choosing one of the available options as a pure gamble - taking advantage of the fact that at this stage all players have an equal chance of winning.

The exchange reflects this, in that all Hands are showing at odds of 3.98 (approx 3 to 1) to Back and 4.02 to Lay.

You can, of course, choose to 'Check' at this point i.e. opt not to place a bet. If you do want to bet, you have 25 seconds (20 in Turbo edition!) to make up your mind!
---
2. Pre-flop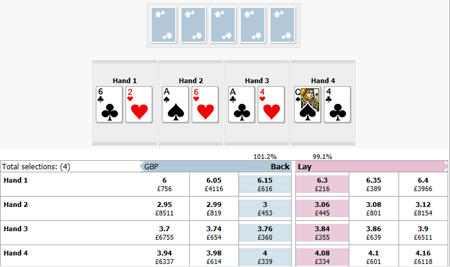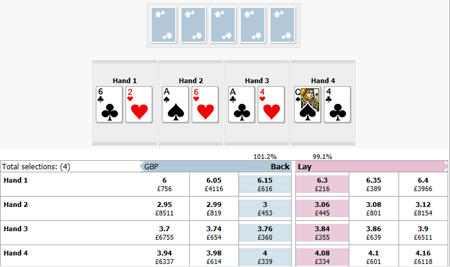 Each player is dealt 2 unique cards to start. At this point the betting switches to in-play.

With even a basic understanding of Poker, you can do the Maths and work out the probabilities of each hand winning. Again, you have an opportunity to bet (Back or Lay) on each hand.

In the example to the right, you'll seed that probability suggests that Hand 2 will win - the exchange odds change to reflect this.

You might want to go with this and Back Hand 2, or you could take this opportunity to Lay Hand 2, hoping to attract money from other punters looking to cash in.

As we'll see, this can be quite profitable!
---
3. The Flop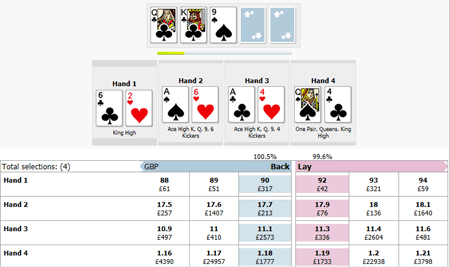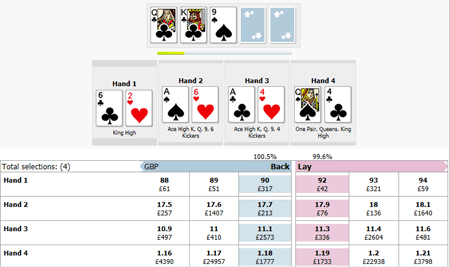 The three Flop cards are now revealed and the odds of each Hand winning change instantly!

Depending on the Flop, each player's chances of winning are increased or decreased and the exchange will reflect this.

This is another chance to make an informed bet, based on your knowledge of the game - bearing in mind that other punters may not have the same expertise!

You'll notice in our example that Hand 2, which was a clear favourite pre-flop has now drifted to 17.7, again opening opportunities to bet.
---
4. The Turn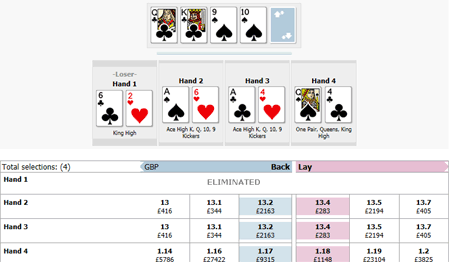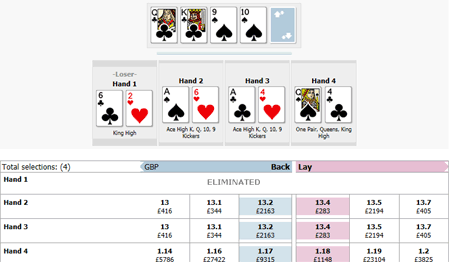 This is your last chance to bet on this game.

As the Turn card is dealt, the situation begins to get much clearer. Players are now eliminated and the odds begin to separate.

As with all exchange betting, other gamblers will react to what just happened, giving you an opportunity to place further bets - either on your original choice or a new one.

This is now your chance to make your biggest bets - remembering that you can Lay a result as well as Back it, giving you the chance to play safe and go for the obvious or bet big on an outside bet, hoping to clean up!
---
5. The River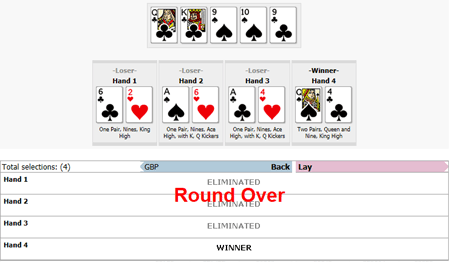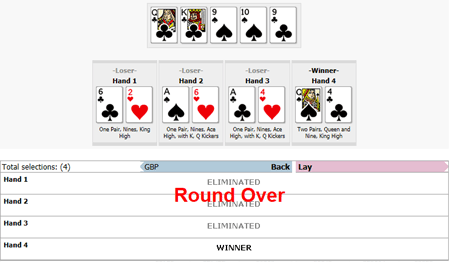 The River card is revealed and the game ends.

In our example game, Hand 4 is the winner, despite having been 3 to 1 pre-flop.

At this point, all matched bets are settled. If you've Backed a winner, you get your winnings. If you've Layed a winner, you have to pay out the amount you staked to the winning punter.

If you Layed a hand and it lost, you pick up the stakes of the losing punters!

Once all bets are settled, the action moves on to the next game - there's a game every few minutes, 24 hours a day, so you never have too long to wait!
---
Fancy trying it out?
If the above has whetted your appetite, and you'd like to give Exchange Hold Em (or any of the other Exchange Games) a spin, just click on the link below and we'll take you straight there!
Play Exchange Games now


#ad 18+