Online Sic Bo guide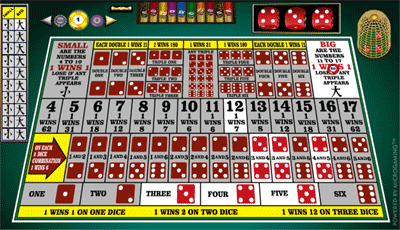 Sic Bo is a fast-paced, exciting, three dice game, loved by Asian gamblers worlwide. Not that common in Western casinos, in Macau you'll find rows and rows of Sic Bo machines, with players furiously placing their bets.
At first glance, the board can look quite complex and intimidating, but it's essentially very simple to play. Once you understand the board layout and your betting options, you'll be playing in no time!
To help take you from novice through to a High Rolling Macau-standard Sic Bo player, we've put together a comprehensive Sic Bo guide, that tells you everything you need to know:
Sic Bo is a fast-paced, no-nonsense game that appeals to fans of both Craps and Roulette.

Three dice are thrown in a small cage by the dealer, and punters bet on the results of the throw - e.g. the total of the three dice, any single number appearing, two specific numbers appearing, or a certain combination of numbers.

Each bet has a different payout based on probability, and you can place as many bets as you like - similar to Roulette.
---
Winning strategies for online Sic Bo.

Sic Bo has strategies to suit all styles of gamblers: even money bets for steady gamblers, decent returns for more adventurous punters and massive combination bets for high-rollers!
---
What are the odds of winning at Sic Bo? We explain the odds, probabilities, house edge and payouts for each Sic Bo bet.