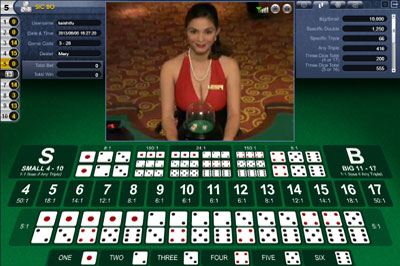 Sic Bo is a fast, exciting dice game. Though the name can be translated as 'dice pair', Sic Bo is played with three dice. The dice are rolled inside a small bamboo cage or glass jar and players have a vast array of betting opportunities on the results of each roll.

Like Dragon / Tiger, Sic Bo is a quintessentially Asian game, wildly popular with Chinese and Thai players, but mostly unfamiliar to Western gamblers. Because of this Asian focus, only five of our casinos offer Live Sic Bo.

If you're a player from the UK looking to play Live Dealer Sic Bo, both our top-rated casinos (betfair and bet365) offer it.

Playtech Asia provides the same feed for both casinos - the difference being in the table limits (betfair allows a wider range of bets). With only 40 games a minute, the pace can seem a little slower than at the other casinos, but these casinos deserve credit for offering an essentially Asian game to a worldwide audience.

If you want more comprehensive information on Live Sic Bo, including rewards and banking information, we highly recommend our partner site Live Dealer Sic Bo, and if you need a reminder of the rules of Sic Bo, or want to study our Sic Bo strategy, have a quick read through our Sic Bo guide before you play.