Round 1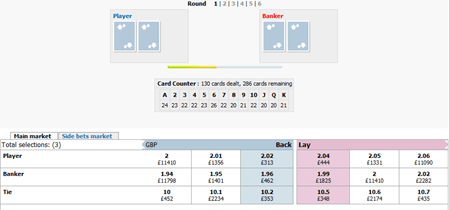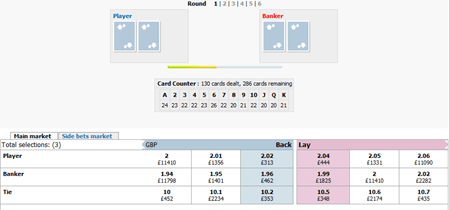 Before the game starts you can place bets on Dealer, Player or Tie, plus five special side bets:
Pocket Pair in any hand
Highest hand has nine
Highest hand is odd
Natural win
Natural Tie
At this stage of the game, the odds offered on each of the bets is always the same (see image to the right).

Other than following our usual Baccarat strategy i.e. betting on Dealer, there's no real decision making to be done yet.
---
Round 2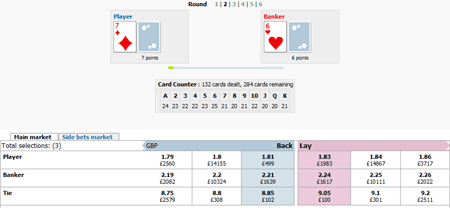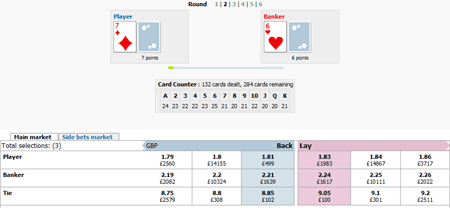 The cards are dealt and the odds on each bet change instantly!

As with all exchange betting, other gamblers will react to what just happened, giving you an opportunity to place further bets - either on your original choice or a new one.

Don't forget that the odds on the side bets will also now start to change.

This is your first real opportunity to make an informed bet, based on your knowledge of the game and its strategy - bearing in mind that other punters may not have the same expertise!
---
Rounds 3 - 6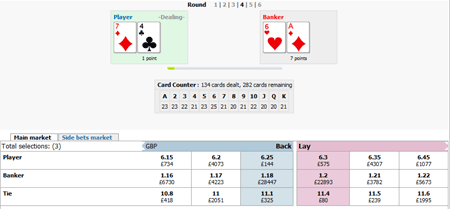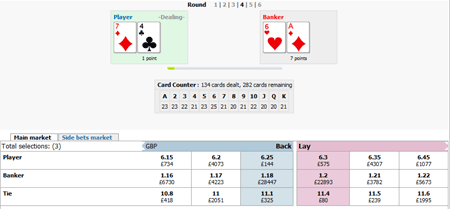 Play now continues for up to 4 more rounds, depending on the cards dealt. This follows standard Baccarat rules in terms of whether the Dealer and Player receive more cards or not.

After each round, you have the chance to bet further, reacting to what you see - both on the table and on the exchange.

This is the great part of Exchange betting - betting in-play as the game changes and other punters react - always remembering that you can Lay (bet against) a certain result as well as Backing (betting for) it, giving you the chance to play safe and go for the obvious or bet big on an outside bet, hoping to win big!

Once the game ends, all bets are settled and the action moves on to the next game - there's a game every few minutes, 24 hours a day, so you never have too long to wait!
---
Fancy trying it out?
If the above has whetted your appetite, and you'd like to give Exchange Baccarat (or any of the other Exchange Games) a spin, just click on the link below and we'll take you straight there!
Play Exchange Games now


#ad 18+