Online Pai Gow Poker guide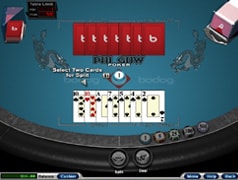 Pai Gow is an unusual card game that can best be described as like Blackjack for Poker players - you play against the dealer, but have to form two Poker hands.
Although simple, there is plenty scope for players who want to develop an optimal playing strategy.
To help take you from beginner through to an expert Pai Gow Poker player, we've put together a comprehensive guide, that tells you everything you need to know:
In Pai Gow Poker, you're dealt seven cards which you have to make into two Poker hands - the Front (2 cards) and the Back (5 cards).

The dealer does the same. To win, both your hands must beat the dealers.
Need a reminder of how to play? Read here: Pai Gow Poker basics.
---
Pai Gow Poker requires an optimal playing strategy, which comes down to understanding three basic elements and combining them to suit your own personal style:
General rules for setting any seven card hand;
The House Way - the way the casino instructs its dealers to set their hands;
The Bonus bet - betting on your hand, regardless of how you set it.
Brush up on your tactics here: Pai Gow Poker strategy.
---
Practice your new-found Pai Gow strategy skills on this free play game which you can play without downloading, on your mobile, tablet or desktop.

You'll get 1,000 play money credits and as long as you want to practice!
Practice your new-found skills: Play Pai Gow Poker for free.