Online Baccarat guide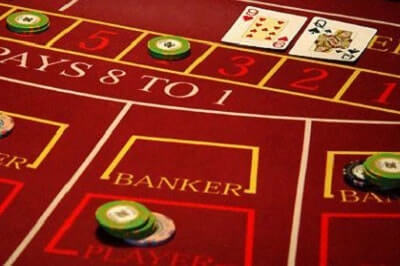 Baccarat is one of the simplest card games, with a limited set of rules and betting choices.
But many players are intimidated by Baccarat / Punto Banco because in real casinos it's played in separate rooms that cater to high rollers. This gives the game an aura of 'class' which makes it seem out of reach to ordinary players.
Online, there's no separation, so everyone can enjoy this fantastic game.
To help take you from novice through to a High Rolling Macau-standard Baccarat player, we've put together a comprehensive guide, that tells you everything you need to know:
Basic rules and tips for playing Baccarat. An explanation of the board layout, and the three main betting options - Player, Banker and Tie.

We also explain the third card rule - how and when each hand is dealt an extra card.
---
Finding a winning Baccarat strategy lies in understanding the rule that if the hands are tied, your bet is returned to you. Because of this, in any calculation of the Baccarat house edge, the Tie bet can be effectively disregarded.

We explain why a very common Baccarat strategy doesn't work, and suggest an alternative that give you a much better chance to win.
---
Once you're familiar with our recommended Baccarat strategy, you can put it through its paces on our FREE Baccarat game, courtesy of Bovada casino, which you can play without registering or downloading.

You'll get 1000 play money credits and as long as you want to practice the 1-3-2-4 - or maybe devise a strategy of your own!