Get slicing!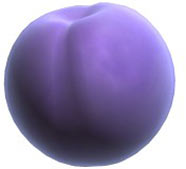 Fruit Warp is another inventive slot from Swedish supplier Thunderkick games.
It's based on the Fruit Ninja game / app, so if you're familiar with that, you'll know exactly how this works - slicing through fruits of the same type racks up points. The difference here is that you don't have to slice - the game does it all for you!
It's a visually impressive game, with 3d fruits appearing from the near distance and hanging in front of you, ready to be sliced.
The free game below gives you 5,000 credits to play with so you can slice away to your heart's content!
Fruit Warp

gameplay

As with other Thunderick games, you don't need to select how many lines to play, or alter the coin size per line. Instead, you choose an overall bet, from 0.10 per spin all the way up to 100. That way, you're always playing every line.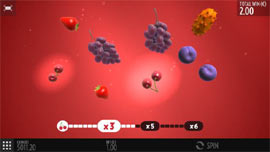 Gameplay is relatively straightforward and can seem a little slow paced at first, but once you manage to enter Fruit Mode, things change very quickly!
Fruit Mode occurs when you slice five or more of a single symbol type on a spin or re-spin in the main game. Each fruit has its own Fruit Mode - there are nine in total, each one worth more than the last! Fruit Mode consists of a series of spins, each of which needs to result in at least one relevant symbol (the fruit that triggered the mode) appearing on the screen. To help you see your progress through the mode, a meter is shown at the bottom of the screen. For each mode symbol that appears, you advance one more step along the meter. Once the entire meter is filled, the mode ends.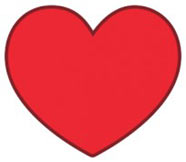 Various rewards are scattered on the mode meter (3 multiplier rewards and Hearts) which all help to build your wins when in the mode. The Heart symbol is basically a 'safety net' in case a mode spin doesn't produce a mode symbol. In that case, a Heart is used to continue through the mode. Each Heart can be used once to extend the mode. If you're lucky enough to have any extra lives present when the mode ends (the mode meter is filled up) then they're discarded.
As discussed above, Fruit Mode is where the real excitement is in Fruit Warp and it's definitely worth continuing play until you've reached it!
Get your five a day!
Five of any fruit triggers a Fruit Mode, but the game features an extra mode chance to give you a boost if you're a little short on your quota! Whenever four fruits of the same kind appear after a spin, the rest of the fruits change to warp symbols and the game re-spins them. If a fifth fruit comes up as a result of the re-spin, you get into the relevant Fruit Mode.
Fruit Warp is categorized as a High variance slot, which means that wins are less frequent, but bigger when they do occur. Theoretical Return To Player is a decent 97%, which is pretty normal for a High variance slot.
In common with other Thunderkick games, this is not a run of the mill slot but one where a lot of thought has clearly gone into the design and gameplay. Although slow at first, it's certainly a slot that offers a lot of entertainment value.
---
See
Fruit Warp

in action!